Optional Tours Program

Comfortable shoes and clothing are recommended for all tours. For any outdoor tours we recommend that participants bring sun protection cream, sunhat and sunglasses.
Sydney Morning City Sights and Bondi Tour
Operates Daily
08.45 – 11.45
Cost: From $59.00 per person
Enjoy a morning highlights tour capturing the history of Sydney, stunning architecture, spectacular harbour views and world-famous Bondi Beach. Click here for more information.
For reservations please call (Toll Free): 1300 556 100
Sydney Harbour Coffee Cruise
Operates Daily
10.00 – 12.00 or 14.15 – 16.15
Cost: From $49 per person
Sydney's No.1 sightseeing cruise. The coffee cruise shows you all of best of Sydney Harbour and includes snacks, tea and coffee and a full commentary with amazing views from every deck. Click here for more information.
Central Reservations Australia
International: +61 2 9206 1100
From Australia 1800 804 843
Walking Tours of the Rocks
Operates Daily
10.30 – 12.30 or 12.30 – 14.30 or 14.30 – 16.30
Cost: From $30.00 per person
There is no better way to get up close and personal with the living history and heritage of Sydney than on foot with Sydney's foremost team of friendly and enthusiastic guides at The Rocks Walking Tours. Hear how the Rocks was inhabited by that First Fleet of convicts arriving as they did into Sydney Cove in 1788 thus impacting forever on the local Indigenous people's way of life. Click here for more information.
For bookings phone + 61 2 9247 6678
Sydney Harbour Bridge Climb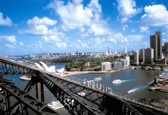 Operates Daily
Dawn: $295 per person
Day: $189 per person
Twilight: $249 per person
Night: $179 per person

Bridge Climb is the ultimate way to experience Sydney, over two million people have experienced the climb of their lives - now it's your turn. Choose between two 3 ½ hour guided experiences – The Bridge Climb or The Discovery Climb. Both Climbs reach the summit of this world famous bridge, 134 metres above Sydney Harbour and are available at Dawn, Day, Twilight or Night. For further information about this activity, please visit www.bridgeclimb.com.au.
For bookings phone:+61 (0) 2 8274 7777
Blue Mountains 4WD Full Day Tour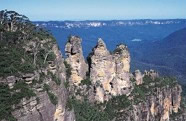 Operates Daily
08.00 – 18.00
Cost: From $160 per person

The Blue Mountains 4WD Tour visits the Featherdale Wildlife Park, Bowen Creek nature trail, followed by lunch at the Mt Tomah Botanical Gardens and continue on in the afternoon to Grose Valley, Scenic World or Echo Point to enjoy refreshments at Olympic Park before heading back to Sydney. Click here for further information.
For bookings phone: +61 (0) 2 9319 3458
Australian Wild Escape Tours
The Australian Wild Escape Tours are an unforgettable and educational experience, transporting guests to areas well off the "beaten track", with historical, ecological and cultural interests. Our guides interpret and bring to life all of your surroundings. Some of the few tours on offer are the Historic Hunter Valley Vintage Tour and the Historic Sydney Harbour and Northern Region Tour. For further information about the tours on offer, please visit the Australia Wild Escape Tour website at www.australianwildescapes.com.
For bookings phone: +61 (0) 2 9980 8799
A Night at the Opera House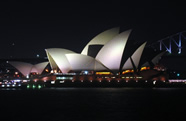 The Sydney Opera House offers a unique opportunity to experience some of the best presenters and live performances in the world across a variety of genres. The Sydney Opera House presents over 450 exciting performances that take place at the venue each year. For more information on performances premiering during your stay in Sydney please visit the website at www.sydneyoperahouse.com.

For enquiries and bookings phone: +61 (0) 2 9250 7111
Sydney Attractions
Sydney attractions offer some of the best attractions and activities to entertain and educate you. These attractions provide a great fun day out for families and friends and offer 'soft adrenalin' experiences for adventure enthusiasts. Some of the few activities on offer are the Sydney Aquarium, Sydney Wildlife World, Sydney Skywalk, Ocean World Manly and Shark Dive Extreme. For further information or to book passes to these activities, please visit the Sydney Attractions website at www.sydneyattractions.com.au.
For bookings phone: +61 (0) 2 8251 7800
General Information
Terms and Conditions
These tours are offered by arinex Destination Management, a division of arinex pty limited (license No. 2TA001144). The tours are offered exclusively for participants and accompanying persons attending the 11th Congress of the International Colour Association.
All sightseeing tours include informative English speaking commentary, all entry fees and meals where specified. Comfortable shoes and clothing are recommended for all tours. For any outdoor tours we recommend that participants bring sun protection cream, sunhat and sunglasses.
Disclaimer
Please be advised that the above tours are offered by separate operators, and do not have any connection with arinex pty limited. This information is provided to delegates on a general basis and is the delegate's responsibility to research, make a booking and pay for the service provided directly with the supplier.
Please ensure that you read the terms and conditions on the operator website before proceeding with payment to avoid any problems. Any issues relating to this are at the expense of the delegate and not the responsibility of arinex pty limited.